Professional Mosquito Control
Are Mosquitos Taking Over Your Yard?
Let Marshall's Lawn technicians make your time outdoors enjoyable again with our mosquito control program guaranteed to reduce the mosquito population on your property. Unfortunately, mosquitoes spread diseases that can cause significant illnesses for both children and pets. The Missouri area is no exception to these diseases, but our professional mosquito control program can help protect your family and pets year-round. 
Our Mosquito Control Program 
Step 1: Property Inspection
Before treating, our technician will inspect and identify common areas where mosquitos are known to reside such as standing water, ponds or any containers with water where they can lay their eggs. These environments make a perfect breeding ground for mosquitoes. Mosquitos prefer to escape sunlight and wind and hide in areas that are dark and humid, including vegetation like shrubs, tall grasses, and even on the underside of foliage leaves. Cool, shady outside areas such as under decks and covered porches can also provide a breeding ground for mosquitoes.
Step 2: Perimeter Spray Treatments
Our trained technicians will use specialized equipment to apply our liquid-based formula, targeting those mosquito hot spots. This treatment will take effect immediately and create a barrier around your home controlling the mosquitoes.
Step 3: Seasonal Recurring Treatments
It is recommended that your property be treated on a regular basis in order to provide the barrier needed to support season-long protection.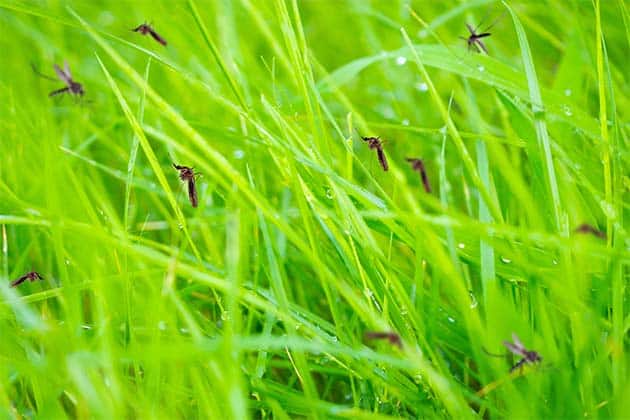 Our goal is to help your lawn reach its fullest potential. We'll customize a plan that works best for your lawn with a variety of services to choose from including weed control. If you have been looking for a premium-quality lawn care company in the Kansas City area, look no further.
The experts at Marshall's Lawn Service will help you maintain a healthy and beautiful lawn all year long. Contact us today for a free estimate.
"*" indicates required fields