Bring Life Back Into Your Lawn With Our Overseeding Services
Lawn Renovation at its Finest
The Midwest can be tough on your grass. Our hot summers and cold winters expose your grass to all sorts of challenges and a variety of factors. Many things can do a number on your lawn and kill your grass including drought, heavy foot traffic, pets, insects, and wildlife. That's why you need our professional lawn care team to overcome these issues.
After the aeration or verituct process is complete, it's time to overseed.
When overseeding, grass seed is planted directly into the existing turf to fill in bare spots, improving grass density, and the color variety for a better texture for your lawn.
Marshall's Lawn Service lawn-care specialist will work with you to identify and recommend the best seeds to use for your lawn, taking into consideration the climate of the Kansas City metropolitan area.
Spot Seeding Lawn Care Services Working Hand in Hand
Most grass types in our area don't fill in on their own and will require some seeding to repair the bare or thin spots in the turf. On a small area, your technician will manually rake the area to ensure seed-to-soil contact, followed by a dose of starter fertilizer used to promote successful growth.
Marshall's Lawn Service uses only premium grass seed for a thick and healthy turf. With more than 25 years of experience, we know the best times to plant seeds for optimal growth and root development. Of course, new seed requires watering, which our team will discuss with best practices with you, since seed will not germinate without proper watering techniques.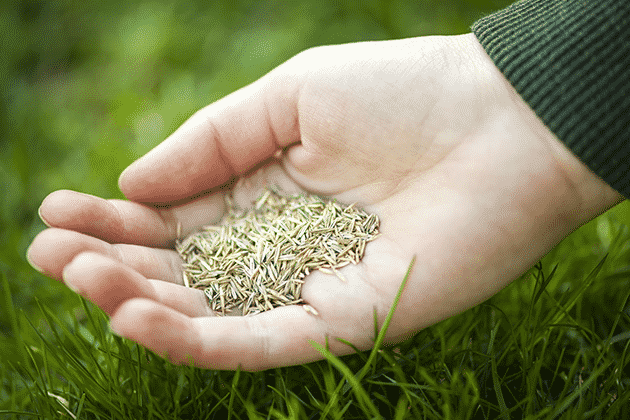 Our goal is to help your lawn reach its fullest potential. We'll customize a plan that works best for your lawn with a variety of services to choose from including overseeding. If you have been looking for a premium-quality lawn care company in the Kansas City area, look no further.
The experts at Marshall's Lawn Service will help you maintain a healthy and beautiful lawn all year long. Contact us today for a free estimate.
"*" indicates required fields